Our ethos and values are founded on the principles of sportsmanship, respect and inclusivity. Our aim is to encourage the enjoyment of the sport for all members and to coach all members effectively so that they can play football to the best of their ability in a safe, supportive and respectful environment. We encourage skill development, fitness, fair play and teamwork as well as teaching our members life skills such as mutual respect for your opponents, managers, coaches, team mates, spectators and hosts.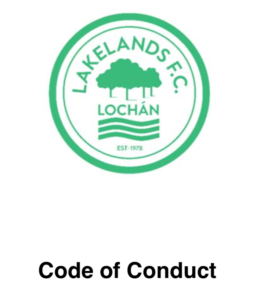 In line with our ethos we have developed a comprehensive Child Welfare Policy which is based on guidelines set out by the Football Association of Ireland (FAI) and on national guidelines contained in :
Code of Ethics and Good Practice for Children's Sport, Irish Sports Council, 2000.
Children First: National Guidelines for the Protection and Welfare of Children, Dept. of Health & Children 1999
Our Duty to Care, Dept. of Health & Children 2002
Football Association of Ireland Code of Ethics & Best Practice
Lakelands is committed to ensuring that all necessary steps will be taken to protect and safeguard the welfare of children and young people who participate in soccer. This Policy document clearly demonstrates the importance placed by Lakelands FC on the protection and safety of children and young people who participate in soccer.
The work of Lakelands FC is based on these guidelines and are used as a guide for the development of football for young people in this club. As such , children and young people's experience of football in Lakelands FC is guided by what is best for the child or young person. Underpinning these guidelines are a set of principles by which we live :
Integrity in relationships
Quality atmosphere & ethos
Equality
Fair Play
Balanced competition
Our Club Code of Practice includes details of our Child Welfare Policy , Recruitment Policy and Codes of Conduct.
The operation of our child welfare policy is overseen by the Board of Directors of the club and its Child Welfare Officer. Gemma Dardis is our Child Welfare Officer and can be contacted at childwelfare@lakelandsfc.net. Please do not hesitate to contact Gemma and/or any member of the board at any time should you have anything you wish to discuss (confidentially).